Support The Guardian
Harriet Sherwood Religion correspondent
Former friend of Prince Charles served 16 months in prison for offences against 18 young men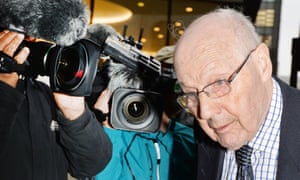 Peter Ball, the disgraced former Anglican bishop who was sent to prison for sexually abusing vulnerable young men, has died at the age of 87.
Ball, who was a friend of the Prince of Wales and other influential members of the establishment, was jailed in 2015 – more than 20 years after allegations were made against him that were largely ignored or downplayed by the church.
Peter Hancock, the bishop of Bath and Wells and the Church of England's lead safeguarding bishop, said: "We have been made aware of the death of Peter Ball and our prayers and thoughts are with everyone affected by this news."
He had resigned as a bishop and accepted a police caution in 1993 after allegations were made, but was allowed to continue officiating in the Church of England.
Last month, the independent inquiry into child sexual abuse (IICSA) said the Church of England had put its own reputation above the needs of abuse victims in the Ball case and there had been a a serious failure of leadership by the former archbishop of Canterbury George Carey.
The inquiry also found misguided expressions of support for Ball by Prince Charles and other members of the establishment when the bishop was accused of sexual offences.
Ball had "sought to use his relationship with His Royal Highness the Prince of Wales to further his campaign to return to unrestricted ministry", the 250-page report said. The Duchy of Cornwall bought a property to be rented by Ball after he resigned as a bishop.
The prince's actions "could have been interpreted as expressions of support for Peter Ball and, given the Prince of Wales's future role within the Church of England, had the potential to influence the actions of the church," IICSA said.
In a written submission to the IICSA, Prince Charles said he had been deceived over a long period of time "about the true nature" of Ball's activities, but denied he had sought to influence the outcome of police investigations.
Continue reading "Peter Ball, former C of E bishop jailed for sexual abuse, dies at 87" →