It's hard out here for a pope. See, when it comes to religious history, the list of Catholic Church transgressions makes for pretty uncomfortable reading. Despite exalting virtue and kindness in its teaching, Church leadership has spearheaded a long history of outright unforgivable Catholic actions.
You might remember some of these improprieties from school – the Inquisition, Joan of Arc, and the trial of Galileo should all ring a bell. But not everything here is medieval. Though Vatican violence goes way back, there are a number of disturbing episodes from recent history. Some of this repugnant behavior comes from Popes, some was Church-endorsed, and some, most unsettlingly, was just straight-up regular Church practice.
Dark Church history contains scandal after scandal rife with every vice and taboo you can imagine. When the Church was at the height of its power (at which point it was the most powerful organization in the Western world), it's safe to say everything went to its head. Combine that with the fact that Church leaders seem to stubbornly resist adapting to changing morality and you've got a whole lot of unforgivable moments on our hands.
Systemically Covering Up Tens Of Thousands Of Cases Involving Sexual Misconduct
Remember the time there was a systematic cover up of abuse, molestation, and rape at the hands of priests that went all the way to the top of the Church? A conservative estimate says there were 17,200 victims in the US alone, and this type of mistreatment happened world-wide. When complaints came in, priests and other offenders were transferred, rather than punished. The extent of their actions will probably never be fully understood, because of the decades of cover up.
But the Church isn't denying it anymore. The archdiocese of Milwaukee acknowledged the severity of the issue and agreed to pay a $21 million settlement to 300 victims. But these types of settlements are few and far between. Luckily, Pope Francis has set up a tribunal to hold the bishops who facilitated the cover up to account. The molestation of children is still happening at the hands of priests, 15 years after the Boston Globe broke the story.
In fact, in August 2018, a grand jury reported that internal documents from six Pennsylvanian dioceses noted that over 300 "predator priests" were "credibly accused" (a seemingly subjective accusation acknowledgement based on the discretion of individual dioceses) of harming more than 1,000 child victims; the alleged violations go as far back as 1947. Due to statute of limitations, only two priests were charged with abusing minors.
In February 2019, however, Pope Francis publicly acknowledged the systemic maltreatment and vowed to combat the problem. He said, "I think that it's continuing because it's not like once you realize it that it stops. It continues. And for some time we've been working on it."
The International Union of Superiors General has used the uprising of the #metoo movement to denounce the "culture of silence and secrecy." With the support of Pope Francis and the pushback from the community of international female superiors, the Catholic church claims to be "working on" overcoming the years of sexual mistreatment by persons in power.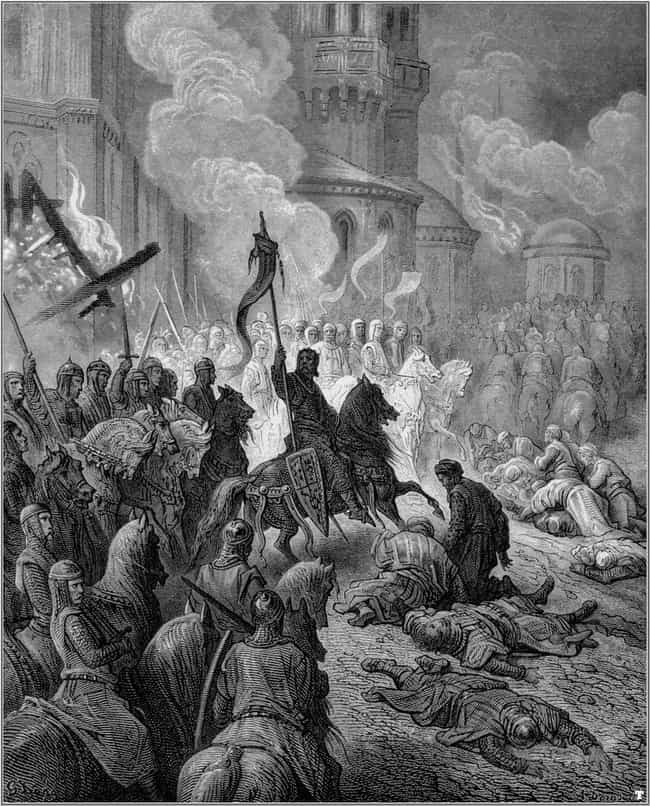 In 1095, when Pope Urban II made a plea for war with Muslims, armies of Christians in Western Europe took up the charge. The pope promised serfs freedom if they went, galvanizing the masses. In the First Crusade, an army of peasants led by Peter the Hermit was massacred by the Turks. When an army of knights went after them and captured Jerusalem, it was said they massacred Muslims until the streets ran with blood.
This was only the beginning. Waves of the Crusades continued until 1396, marking three centuries of warfare, and incalculable human suffering. Catholics definitely weren't the only religion involved in this mass violence, but Pope Urban II got the ball rolling. Here's a nice juicy summary of the sordid catastrophe:
"Taking the heads of slain enemies and impaling them upon pikes appears to have been a favorite pastime among crusaders. Chronicles record a story of a crusader-bishop who referred to the impaled heads of slain Muslims as a joyful spectacle for the people of God. When Muslim cities were captured by Christian crusaders, it was standard operating procedure for all inhabitants, no matter what their age, to be summarily killed. It is not an exaggeration to say that the streets ran red with blood as Christians reveled in church-sanctioned horrors. Jews who took refuge in their synagogues would be burned alive, not unlike the treatment they received in Europe."
see more on Crusades
Pretty Much Everything Done By Pope Boniface VIII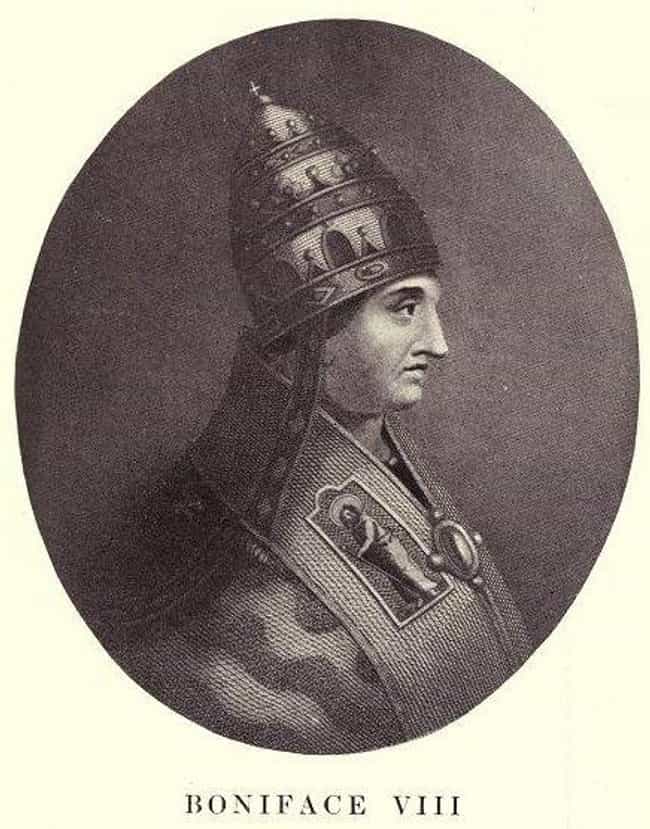 When you're such an evil pope Dante reserves you a spot in the Eight Circle of Hell, you definitely get a place on this list (and are probably laughing in heaven right now at the filthy plebs who deigned write this). It's amazing to think people of this nature were endorsed by the Catholic Church, let alone elected to lead the organization.
Boniface VIII (1230 -1303) was guilty of many horrible crimes that, sum total, make him seem like a sadistic Roman emperor. Among other things, he oversaw the complete destruction of Palestrina, a city that peacefully surrendered. Palestrina was completely razed, and Boniface ordered a plow driven over it to prove it had been reduced to nothing but earth and rubble.
You know priests take a vow of celibacy, right? Apparently, Boniface VIII didn't take his too seriously. He once had a three-way with a married woman and her daughter, but was even more well known for saying that having sex with young boys was as natural as rubbing one hand against the other. So, obviously, he was raping (or at least fornicating with), children.
To celebrate his many great accomplishments, Boniface VIII just loved erecting statutes of himself. So add hubris to his list of sins.
Burning Joan Of Arc For Dressing Like A Man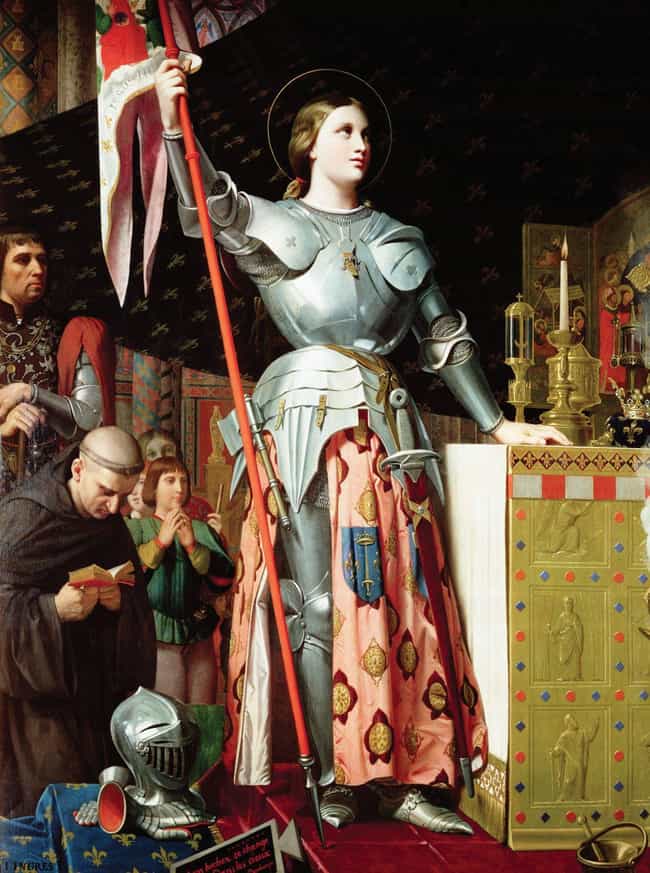 You may know Joan of Arc as a saint, but the Church didn't always hold her in such high esteem. In fact, at one time, she was pretty much the Catholic Church's public enemy number one.
In 1429, 17-year-old Joan of Arc, believing God had spoken to her, instigated an uprising to get the English out of France, but some high-powered Catholics who sympathized with the English weren't pleased. French king Charles VII wisely accepted Joan's help in his fight against the English, and together, they won some major battles.
When Joan was captured, Charles VII, unsure of whether he trusted her as an emissary of God, handed her over to the Church, which did what Catholics do best, put her on trial for heresy with no evidence. To make things one step more ridiculous, Joan was denied counsel, which was against Church rules. Despite this, she is famed for remaining cool, calm, and dripping with integrity throughout the trial.
Because there was no evidence of heresy, Joan was found guilty of one of the 70+ other charges brought against her, wearing men's clothes, for which she was burned at the stake in 1431 in front of a crowd of thousands. The Church was determined to get her, and did.
In 1456, Charles VII ordered an investigation into Joan's trial. The result? She was declared innocent and made a martyr. The Church followed suit and, in 1920, canonized her. Talk about a change of heart. Maybe since all male Church officials were dresses they pretend are robes, they decided it was okay for Joan to dress a little butch.
Burning William Tyndale For Making A Vernacular Bible For The Masses
You'd think the Church would make the mass distribution of its core text a main priority. As it turns out, in the 16th century, this was the last thing powerful Catholics wanted.
Scholar William Tyndale, on the other hand, wanted this so badly he went into hiding to translate the Bible into English, so lay people could read it for themselves. The Church was not happy about this, and when copies were smuggled around Europe, Catholic authorities demanded they be burned.
And what of Tyndale? He was captured, tried for heresy for daring translate the bible, and burned at the stake. When Church authorities decided printing Bibles in English was okay, they borrowed a whole lot from Tyndale's translation. And never apologized.
Burning Someone 43 Years After He Passed Because He Upset Some Important Catholics
As if having your enemies killed wasn't enough, Catholics gotta burn the corpses, too. What gives? Trying to outdo what the Romans did to JC?
John Wycliffe (1320 – 1384), famous English theologian and vocal critic of the Church, was a forerunner of the Reformation. Among his many criticisms was a belief the Church should give up its worldly possessions. As you can imagine, not an idea the church was happy to have spread around. Wycliffe also promoted and worked on the first English translation of the Bible, hoping to give people direct access to the word of god. Again, not a fun idea for the Church, which liked its monopoly on power.
William Courtenay, Archbishop of Canterbury, made moves against Wycliffe after retiring (gotta stay busy). Wycliffe's writings were banned in certain areas, but it didn't end there. It didn't even end when Wycliffe died of a stroke in 1384. Instead, in 1415 (31 years after he died), the Council of Constance declared Wycliffe a heretic. Not only did they order his books burned, they ordered his body exhumed and burned. And it took them 12 years to do that. So, 43 years after Wycliffe died, his corpse was torched and his ashes thrown in the River Swift. So much for resting in peace.
Imprisoning Galileo In His Home For Years Because He Suggested Science Was Greater Than God
The Church and science have a complicated relationship, to put it nicely. In 1633, Galileo Galilei, the father of, like, all science, was put on trial by the Church for saying the sun is the center of the universe and the earth moves around it, rather than the other way around. Which is, you know, true for the most part (sure, okay, the sun isn't the center of the universe, but still, he was onto something). But that didn't matter.
Pope Urban VIII was having none of it, seeing Galileo's statement as horrific heresy. So, 10 cardinals sat in judgment of Galileo, who was threatened with torture, imprisonment, and even being burned at the stake. Galileo, 69 at the time and in a "pitiable state of bodily indisposition," eventually renounced his beliefs. Because of this, the church went easy on him and, rather than torture, he was subjected to house arrest until he died. What a way to treat the father of modern of science.
And what does the church have to say on the subject now? "We today know that Galileo was right in adopting the Copernican astronomical theory," Paul Cardinal Poupard, the head of an investigation into the matter said in 1992. So, only 350 years too late.
Cutting Funding For Immigrants Because Of Their Connection To The LGBTQ+ Community 
Not all Catholic faux pas come from the past; there's been some dodgy stuff in modern times, as well (see priest rape bonanza), and the church's relationship with the LGBTQ+ community continues to be a source of frustration. But here's a humdinger:
For years, the Church gave thousands of dollars to Compañeros, a nonprofit helping Hispanic immigrants access healthcare, understand laws, and meet other basic needs. That is, until the Church found out Compañeros teamed up with a gay and lesbian rights group, at which point Nicole Mosher, executive director of  Compañeros, was informed their funding was in danger.
Compañeros is but one example of organizations the Church threatens for not falling in line with the most strident dictates of Catholicism. The New York Times explained in 2002, "Since 2010, nine groups from across the country have lost financing from the campaign because of conflicts with Catholic principles."
On the one hand, of course it's okay for the Church to withhold money from causes in contradiction with its beliefs. Like, say, an abortion clinic. But cutting off funding to aid the needy simply because of an association with the LGBTQ+ community seems extreme and unfair, especially given Church doctrine on helping the needy and feeding the poor. What's more, members of the LGBTQ+ community can identify as Catholic and go to church, but can't be helped by that Church? This is all the more more difficult to swallow when considering the Church's $1.6 billion stock portfolio.
https://www.ranker.com/list/most-unforgivable-things-the-catholic-church-has-done/lea-rose-emery