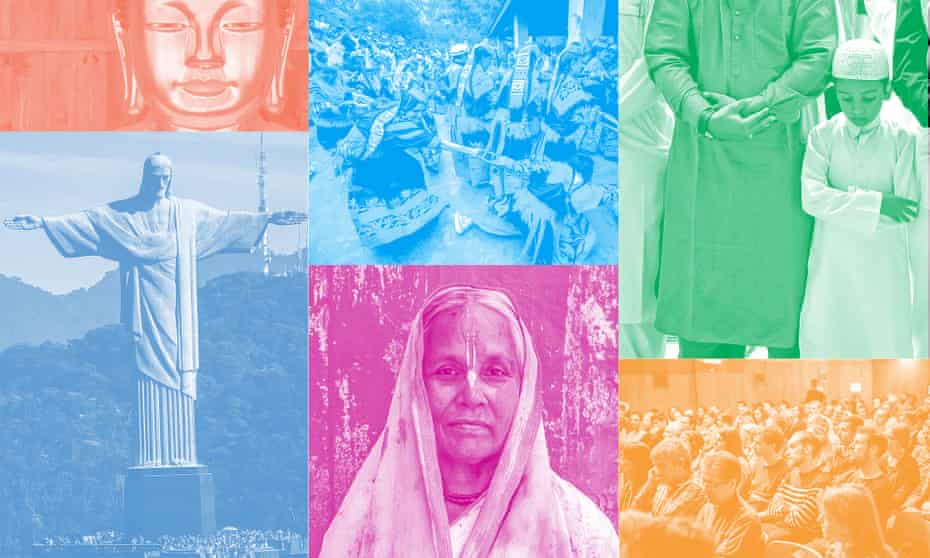 THE GUARDIAN, Mon 27 Aug 2018
by Harriet Sherwood
Faith is on the rise and 84% of the global population identifies with a religious group. What does it mean for the future?
How many believers are there around the world?
If you think religion belongs to the past and we live in a new age of reason, you need to check out the facts: 84% of the world's population identifies with a religious group. Members of this demographic are generally younger and produce more children than those who have no religious affiliation, so the world is getting more religious, not less – although there are significant geographical variations.
According to 2015 figures, Christians form the biggest religious group by some margin, with 2.3 billion adherents or 31.2% of the total world population of 7.3 billion. Next come Muslims (1.8 billion, or 24.1%), Hindus (1.1 billion, or 15.1%) and Buddhists (500 million, or 6.9%).
The next category is people who practise folk or traditional religions; there are 400m of them, or 6% of the global total. Adherents of lesser-practised religions, including Sikhism, Baha'i and Jainism, add up to 58m, or well below 1%. There are 14m Jews in the world, about 0.2% of the global population, concentrated in the US and Israel.
Continue reading

"Religion: why faith is becoming more and more popular"